OLE KALEVIK AND ANNA EMBERLAND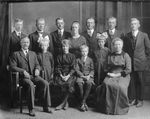 OLE KALEVIK FAMILY. BACK: ARTHUR, MATHIAS, SEVERIN, HANNAH, ALFRED, OLE, HENRY. FRONT: OLE, EMMA, CLARA, SELMER, ANNA, ANNA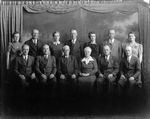 OLE KALEVIK FAMILY. BACK: ANNA, OLE, EMMA, ARTHUR, CLARA, ALFRED, HANNAH. FRONT: MATHIAS, SEVERIN, OLE AND ANNA, HENRY, SELMER
Ole was born in 1866. Ole immigrated to America together with his sister Helene in 1889. He married Anna Emberland (1870-1945) in America. Together they got 11 children.
Children of Ole and Anna Kallevik: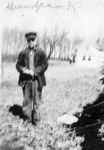 OLE KALEVIK
Grandpa Ole died 10 October 1942; and Grandma Anna died 6 December 1945. Their bodies were laid to rest at the Green Lake church cemetery south of Spicer.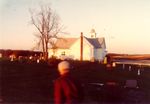 GREEN LAKE CHURCH AND CEMETERY, 5/13/78, (PERSON IS SELMER)
ANNA EMBERLAND was one of 12 children born to Telef and Anna Emberland. They lived on the Emberland farm, Tjernagel post office, near Haugesund at Sunnhordland Hordaland Fulke, Norway.
In those days it was a long trip from Norway to America. They couldn't travel on luxury liners or by airplane like today. Most of the people in those days came over on old cattle boats remodeled to haul people, with very poor accommodations. Many got seasick, and there were no pills to take for it then. When they did get to America, there was a language barrier, as they could only speak Norwegian.
When the day came for Anna to leave for America, there were mixed emotions. Her family was happy she had the opportunity to go. But naturally, they would rather see their girl stay in Norway as America was so far away, and they wondered if they would ever see her again. There were many hugs, kisses and tears before she got on the ship. An old family friend, Gunder Emberland, who had already made plans to go to America, was to be Anna's escort. Even though he had the same last name, they were not related. Instead, Gunder Emberland was related to our grandfather, Ole Kalevik.
Well, Anna reached America and the Mads Johnson home south of Belgrade, Minnesota. She was a hard worker and had her entire ticket all paid up in one year.
By this time she was being courted by a young man named Ole Kalevik (our grandfather). He had come to America five years before she did. His first job was working for John Martin to learn the American language, which he did. Ole and his brother Mathias had bought a farm in Arctander Township, Section 15, and farmed in partnership.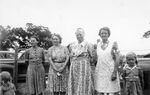 ANNA KALEVIK AT PICNIC. ADULTS: MATTIE, ELSIE, ANNA, HANNAH,

OLE AND ANNA KALEVIK'S FIRST HOME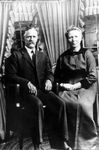 OLE AND ANNA KALEVIK
In 1894 Ole Kalevik was united in marriage to Anna Emberland at the East Norway Lake Church by Rev. Fjelstad. The church was just a few miles from the farm.
While living on this farm, their first four children were born:
Mathias
, 21 October 1894;
Hannah
, 19 April 1896;
Alfred
, 7 March 1898; and
Ole
, 31 October 1899. The first three were all baptized by Rev. Fjelstad at East Norway Lake Church.
Ole's brother Mathias wanted to sell his share in the farm and return to Norway, so they sold the farm to Herman Edman, a grandfather of virgil Edman, whom we know today. Ole and Mathias dissolved the partnership, and Mathias returned to Norway, where he took over the old Kalevik homestead.

AT THE TIME THERE WAS A SMALL VILLAGE NAMED JERICHO, THE EAST NORWAY LAKE CHURCH WAS LOCATED THERE.
Farmland was selling for less money in Burbank Township, north of New London. However, the soil was sandy and could not produce as well, either. Ole and Anna bought a farm there in Burbank Township, Section 14, west of Ringville School. Their two oldest children, Mathias and Hannah, began school at Ringville.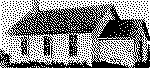 OLD RINGVILLE SCHOOL
While living there, their fifth child,
Severin
, was born on 1 July 1901; and on 15 March 1903 their sixth child,
Henry
, was born. They joined Gausdal Lutheran Church, south of Georgeville, and there Ole, Severin and Henry were baptized.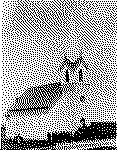 GAUSDAL LUTHERAN CHURCH
In the spring of 1903 they sold the farm. They had purchased it for $10 per acre and now sold it for $20 per acre. They rented a farm in Dover Township, Section 8, the second place west of the old Thorp Schoolhouse. Here their seventh child,
Arthur
, was born on 9 March 1905.

THE KALEVIK HOME PLACE
In 1905 Ole and Anna bought a farm north of Kandiyohi from Frank Arlin in Green Lake Township, Section 26. This 240-acre farm we often refer to as the home place. At present Wendell Kallevig owns and lives on this farm. Ole and Anna lived and farmed here until they retired.
They were members of Green Lake Lutheran Church, where all the rest of their children were baptized and confirmed. They attended School District No. 33 country school.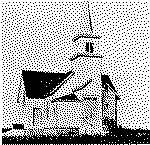 GREEN LAKE LUTHERAN CHURCH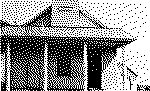 SCHOOL DISTRICT NUMBER 33
On 18 February 1907 their eighth child,
Clara
, was born. On 9 February 1909 their ninth child,
Selmer
, was born. Their tenth child,
Anna
, was born on 22 April 1911, and their 11
th
child,
Emma
, on 24 March 1913.
On this 240-acre farm they raised their 11 children. It was a large, happy family, always depending on God for their guidance.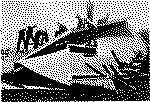 KALEVIK BARN AFTER TORNADO
During the summer of 1926 a tornado struck the farm and took down the 50-foot windmill and the barn, While some of the family was doing the evening milking. The youngest daughter, Emma, became trapped under the barn for several hours. Many of the neighbors came and helped in the rescue. They had to remove 60 tons of hay, which was stored in the barn, before they could get to her. Her one leg was bent back alongside her body, and the leg became cold and without feeling. She thought it was the leg of one of her brothers, thinking he was dead. After she was removed, they rushed her to the hospital. Upon her return home again, they discovered she had a rusty nail lodged in her shoulder; and she had to return and have that removed. It w as truly a miracle of God that her life was spared.
In 1929 Ole and Anna decided to retire. So they bought a small 20-acre farm north of Green Lake, from Peter Tulbertson. They lived there for many years until Grandpa Ole suffered a stroke, and they could no longer live alone. At that time they moved back to the home place and lived with their son Art and his wife Elsie for several years.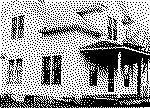 OLE AND ANNA KALEVIK'S LAST HOME
Grandpa Ole Kalevik understood and spoke the English language very well. Grandma learned to understand the language but never learned to speak it. Many of the grandchildren could not understand her or converse with her, but a few of us who understood Norwegian could. I remember when Grandma and I talked we could keep up a very good conversation. She spoke Norwegian, and I spoke English, but we had no communication problem.
I remember that Grandpa was a very good far mer and businessman. Grandma was a very good cook and housekeeper. Whenever you ca me to their house, you never went away hungry. She always baked so many of those good Norwegian goodies.
The Kalevik- Kallevig Family History 1755 - 1987; Copyright 1987, 1999.