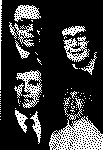 CLIFFORD JORDAHL FAMILY. CLIFFORD, EMMA, WAYNE, AND LYNN
EMMA KALLEVIG, the youngest child of Ole and Anna Kalevik, was born 24 March 1913 on the home farm north of Kandiyohi, Green Lake Township, Section 26. She attended School District 33. Through the years she has worked for The Family Drug Store and The Card Shop Willmar, as well as the White Drug Store, which is located in the Skylark Mall.
Emma married Clifford Jordahl in 1933. Clifford is the son of Anfin and Carne Jordahl of Willmar. Anfin was a Great Northern Railroad boilermaker by trade.
Clifford was born 20 June 1908 and attended the Willmar schools. In the 1930's he bought a gravel truck and used it working for the state highway department. Later he went to work as service manager f or Kallevig - Lindell Chrysler- Plymouth Motors. Next, he was service manager for Johnson-Gary Dodge and Plymouth Motors for six years.
He then leased a building on First Street and went into business for himself, operating Cliff's Standard Service for 20 years. He has been retired for several years and has worked part-time for Somody Supply Co. in Willmar.
Emma and Clifford have two children: WAYNE and LYNN.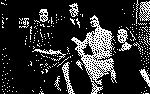 WAYNE JORDAHL FAMILY. PAMELA, WAYNE, PHYLLIS, CANDIS
WAYNE CLIFFORD, the first child of Emma and Clifford Jordahl, was born 4 Dec. 1933. He attended Willmar schools and North Central Bible College. Wayne worked in sales in his younger years at Quality Dairy and Gamble-Robinson, both of Willmar; Toy House, Sioux Falls; and Hall's Equipment Co. of Minneapolis. He later worked for Rex Humbard Ministries, Akron, Ohio, but worked out of Minneapolis as a stewardship representative.
He also worked out of Florida for World Literature Crusade of California. In 1976 he became pastoral administrator of Calvary Assembly of God church in Winter Park, FL, a congregation of 6,000 people. He is also a consultant for church development and capital funding.
On 19 June 1954 Wayne Clifford was united in marriage to Phyllis Jean Jacobson, the daughter of Orville and Ruddella Jacobson of Grove City, MN. Phyllis was born 27 Aug. 1936. She graduated from Minnehaha Academy, Minneapolis, and from University of Central Florida with a BA degree in legal service and public administration. She also has an MS degree in management from Rollins College in Winter Park, FL.
Phyllis worked for over 18 years municipal government in Golden Valley, MN, and Altamonte Springs, FL, where she was city clerk. At the present time she is director of college operations for Quality College in Winter Park, a subsidiary of Phillip Crosby Associates, Inc.
Wayne and Phyllis have two children: PAMELA and CANDIS.
PAMELA JEAN was born 24 May 1955. She graduated from Neil Armstrong High School in Robbinsdale, MN. She got her BA degree in communications from the college of humanities at Florida Atlantic University. She is now an account executive in Tracey-Locke DBO advertising firm in Denver.
CANDIS JOANNE, the second daughter of Wayne and Phyllis, was born 9 May 1958. She graduated from Seminole High School and Florida Atlantic University with a BS degree in marketing and advertising, and also attended business college in Boca Raton, FL. She is now account executive with Evans Bartholomew Advertising in Denver.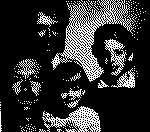 STEVE AND LYNN ALSDURF FAMILY. STEVE, LYNN, AMANDA AND MARK
LYNN JORDAHL, the second child of Emma and Clifford, was born 27 Dec. 1949. She attended Willmar emendatory and high schools and also Willmar Vo-Tech, taking accounting. She worked for State Farm Insurance in the regional office in Roseville, MN, for five years. She is now employed in the personnel department at Rice Memorial Hospital in Willmar.
Lynn was married to and divorced from Steve Alsdurf. They had two children: MARK, born 28 Nov. 1979, and AMANDA, born 8 Aug. 1982. They live in Willmar, MN.
The Kalevik- Kallevig Family History 1755 - 1987; Copyright 1987, 1999.