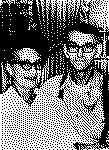 CLARA AND TED FRANS
CLARA KALLEVIG, the eighth child of Ole and Anna Kalevik, was born 18 Feb. 1907 on the Kalevik Home Farm north of Kandiyohi, Green Lake Township, Section 26. She attended school in District 33.
Clara married Ted Frans on 31 Jan. 1931. He was a son of Charles and Anna Frans, who lived north of Kandiyohi near Diamond Lake. Ted was born 29 March 1902.
Ted and Clara farmed all their married lives and lived on a farm just southwest of Diamond Lake. Ted died there on 10 Nov. 1971 and was buried at the Green Lake church cemetery south of Spicer.
After Ted's death Clara bought a house in Atwater, where she lived for many years. But in 1985, as her health began to fail, she moved to the Cosmos Rest Home, where she lives at the present time.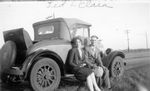 CLARA AND TED FRANS
The Kalevik- Kallevig Family History 1755 - 1987; Copyright 1987, 1999.