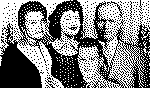 ALFRED KALLEVIG FAMILY. OLGA, VIVIENNE, CARROLL, ALFRED
ALFRED KALLEVIG, the third child of Ole and Anna Kalevik, was born 7 March 1898 in Arctander Township, Section 15 in Kandiyohi County. He attended school in the Thorp School District 62 and District 33, Kandiyohi County. Through the years Alfred farmed on several different farms, all in Kandiyohi County. He ended up on a farm northeast of Willmar (Section 31, Green Lake Township).
In 1922 Alfred Kallevig was united in marriage to Olga Gunderson, a daughter of Martin and Christine Gunderson of New London. Olga was born 15 April 1902 near Georgeville, MN. She attended Georgeville School District 159. Olga also worked as a nurse at the Sunny Side Hospital in New London before she was married.
Alfred passed away 8 July 1948 and was buried in the Green Lake church cemetery south of Spicer. Olga lives in her home in Willmar on Third Street. Alfred and Olga had two children, Vivienne and Carroll.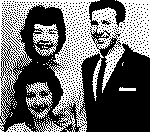 VIVIENNE AND DARREL ZORGATT, GINGER
VIVIENNE KALLEVIG, their first child, was born 12 Oct. 1924. She attended school
District 10 in Colfax Township. She is a great musician and has had jobs playing at John's Supper Club in Willmar and also a supper club in St. Cloud.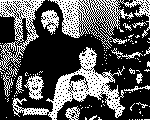 JAMES BARTER FAMILY. JAMES, GINGER, BRANDE, CINNAMIN
On 7 Nov. 1963 Vivienne Kallevig was united in marriage to Darrell Zorgatz. Vivienne has one daughter, GINGER, born 21 May 1951. Vivienne and Darrell's marriage ended in divorce.
On 18 Aug. 1980 Ginger Kallevig was united in marriage to James Barter, who lived in Willmar at the time. They have two children. CINNAMIN was born 4 April 1970 and BRANDE was born 14 Oct. 1983.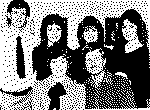 CARROLL KALLEVIG FAMILY. SHELDON, AHARI, JENNIFER, JEANNE, GLORIA AND CARROLL IN FRONT
CARROLL KALLEVIG, the second child of Alfred and Olga Kallevig, was born 15 Sept. 1931. He attended School District 10 u Colfax Township and District 44 near Willmar . He has lived in Irwin, IA, most of his life and is in the plumbing, heating, air conditioning and electrical business. He owns his own business in Irwin.
On 28 May 1950 Carroll Kallevig was married to Gloria Wiig, the daughter of Hjalmer and Isabel Wiig from Irwin, IA. Gloria was born 20 Aug. 1930. Gloria attended her school years in Irwin, IA. Carroll and Gloria have four children: Jeanne, Shari, Sheldon, and Jennifer.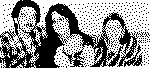 GREG TAYLOR FAMILY. GREG AND JEANNE IN BACK, AND JOEY, RUDY, JESSE
JEANNE, their first child, was born 29 Nov. 1951 and spent all of her school years at Irwin, Iowa.
On 17 May 1975 Jeanne was united in marriage to Greg Taylor, the son of Jack and Georgia Taylor from California. Greg was born 5 June 1949. He also attended school in California. Jeanne and Greg have three children: JOEY, born 21 Dec. 1977; RUDY, born 5 Aug. 1981; and JESSE, born 2 Aug. 1983. They now 1;ve in Denison, Iowa. Greg is a professional photographer.
SHARI KALLEVIG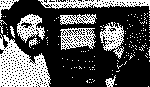 ROGER AND SHARI BURGER
SHARI, the second child of Carroll and Gloria Kallevig, was born 11 Feb. 1953. She attended school at Irwin, Iowa.
On 4 Sept. 1976 Shari was married to Roger Burger, the son of Leslie and Marilyn Burger from Harlan, Iowa. After about ten years of marriage, they were divorced. Shari lives in Harlan, Towa, and has a job caring for the elderly.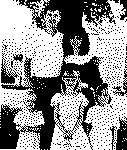 SHELDON KALLEVIG FAMILY. SHELDON AND TERRI IN BACK; MIRA, NICOLE, RACHEL
SHELDON, the third child of Carroll and Gloria Kallevig, was born 22 March 1955. He attended school in Irwin. He followed in his father's footsteps and has his own plumbing and heating business; in Kansas City, Mo.
On 7 Sept. 1976 Sheldon was united in marriage to Terri Gitterman, daughter of Paul and Becky Gitterman of Kansas City, MO. Terri was born 14 May 1952.
They have four children: NICOLE, born 25 Sept. 1977; RACHEL, born 22 June 1979; MIRA, born 4 Dec. 1981; and OLIVIA, born 5 Nov. 1985.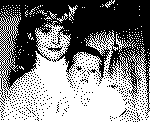 NICOLE HOLDING HER YOUNGEST SISTER OLIVIA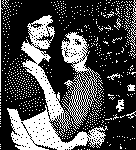 RON AND JENNIFER FRENCH
JENNIFER, the fourth child of Carroll and Gloria Kallevig, was born 4 March 1964. She attended school in Irwin, Iowa.
On 8 Dec. 1984 Jennifer was united in marriage to Ron French, the son of Kenneth and Grace French of Underwood, Iowa. Ron was born 27 Jan. 1961. Ron and Jennifer now live at Council Bluffs, Iowa. He is in the advertising business there.
They have one child, ALEXANDRIA LEE, who was born in November of 1986.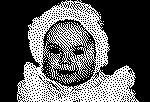 ALEXANDRIA LEE FRENCH
The Kalevik- Kallevig Family History 1755 - 1987; Copyright 1987, 1999.