Page058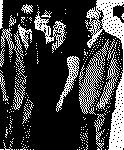 JOY RYKKEN FAMILY. BURTON, ANN, JOY
ANNA KALLEVIG, the tenth child of Ole and Anna Kalevik, was born 22 April 1911 on the Kalevik home farm north of Kandiyohi in Green Lake Township, Section 26. She attended school in District 33. Anna has had a variety of jobs in her lifetime, from working at the Sears store on Lake Street in Minneapolis (1943-47) to operating her own restaurant, Ann's Cafe, in Dassel MN. She also worked in the J. C. Penney stores in Willmar and Minneapolis, S and L Store in Robbinsdale, Red and White Store in Kandiyohi and others.
In 1930 Anna was united in marriage to Joy Rykken, the son of John and Josephine Rykken of Willmar, MN. He was born 26 Sept. 1906. He attended School District 76 north of Willmar. .Joy is an ambitious and intelligent man and has done quite a variety of things. In his younger days he worked on construction in the 1920's. In 1931 he purchased two trucks and hauled livestock to South St. Paul and also did hauling for the State Highway Dept. He was a good machinist and welder.
In 1942 they moved to St. Paul where he was instructor at the Vocational School and also at the Ford plant. At the same time he was a glider inspector at the Minneapolis airport. Next he took the job at Dassel, MN, as manager of the Pure Oil station and repair shop and cafe and apartment complex.
He purchased a machine and blacksmith shop at Kandiyohi in 1947, and ran that for many years. But after selling that he went back to Minneapolis again to teach at the Vocational School. Next they moved to a place on Mille Lacs Lake north of Isle, MN, where he also operated a small shop. In 1976 he retired and moved to Kimball MN, where he has a small shop behind his house. Joy and Ann have one child, BURTON.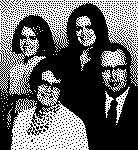 BURTON RYKKEN FAMILY. ROBIN, MAXINE, DEBARA, BURTON
BURTON RYKKEN, the only child of Ann and Joy Rykken, was born 7 March 1931. He attended school at Willmar, Minneapolis and St. Paul.
He also attended refrigeration school 1948- 49; U.S.L.C . Electronic 1954-56; machinist school 1969-72; and electrician school in 1972. He was in the U.S. Air Force 1947-1951. From 1951 to 1954 he worked with his father at the machine and blacksmith shop in Kandiyohi. He was Flour City Brush Co. maintenance supervisor from 1954 to 1963. From 1963 to the present time he has been working for Minneapolis Gas Co. as a regulator man and senior instrument technician.
On 31 Dec. 1949 Burton was married to Maxine Mecham, the daughter of Guy and Bertha Mecham of Kilgore, Neb., where she attended school. She also attended two years of college in Omaha.
Maxine worked for Mutual of Omaha from 1946 to 1951. From 1969 to the present she has been an N.W.B. circuit design engineer.
Burton and Maxine have a home in Minneapolis. They have two children: DEBARA KAYE and ROBIN KAYE.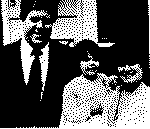 DAVID MARQUETTE FAMILY. DAVID, COURTNEY, DEBARA
DEBARA, their first child, was born 21 July 1952 and attended school at Robbinsdale and also St. Cloud State, where she received a BS degree, and College of St. Thomas, receiving an MA degree.
She was an engineer teacher at Grand Prairie, TX 1975-78. She has been teaching at Anoka-Hennepin District from 1980 to the present.
On 29 June 1974 she was married to David Marquette, the son of Don and Pat Marquette of Robbinsdale, MN. David attended school there and spent a year at Luther College, Decorah, Iowa, before finishing college at St. Cloud State, where he received his BA degree. He is now safety engineer at March and McClellan of St. Paul, serving as safety consultant since 1979. They have one daughter, COURTNEY QUIN, born 19 June 1981.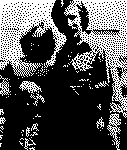 ROGER JOHNSON FAMILY. ROBIN, JEREMY, ROGER, AARON
ROBIN, the second child of Burton and Maxine Rykken, was born 1 Feb. 1955. She attended school at Robbinsdale and North Hennepin Jr. College. She worked as an appraisal analyst for Firemen's Fund for three years and for Minnesota Mutual for three years.
On 25 July 1981 Robin married Roger Johnson, the son of Richard and Marcella Johnson of Minneapolis. Roger was born 16 Sept. 1944. He attended Richfield High School and the University of Minnesota. He is in auto sales.
Roger had one son from is first marriage, AARON WAYNE JOHNSON, born 18 June 1974. Robin had a son with her first marriage to Greg Peterson. Their son's name was JEREMY PAUL PETERSON, born 26 Sept. 1974.
The Kalevik- Kallevig Family History 1755 - 1987; Copyright 1987, 1999.