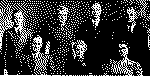 HERMAN BERLIN FAMILY. BACK: HARTLEY, ELEANOR, EINAR, ALFRED. FRONT: HERMAN, DORIS, HANNAH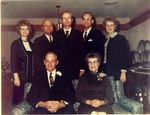 HERMAN BERLIN FAMILY. BACK: DORIS, ALFRED, EINER, HARTLEY, ELEANOR FRONT: HERMAN, HANNAH
JOHANNA KALLEVIG, the second child of Ole and Anna Kalevik, was born 19 April 1896 in Arctander Township, Section 15. She attended school in Ringville School District 11 north of New London; Thorp School District 62; and District 33 north of Kandiyohi She was baptized at East Norway Lake Church and confirmed at Green Lake Luth. Church.
In 1919 Johanna Kallevig was united in marriage to Herman Berlin, the son of Mr. and Mrs. Carl Berlin, who lived northwest of Willmar. Herman Berlin was born 6 June 1896.
A few years after their marriage, Herman and Hannah joined the Seventh Day Adventist church. They farmed all of their lives north of Willmar. Their last farm was northwest of Diamond Lake. They later sold the farm but kept 25 acres and built their home there. Their children did all the work on building the home. Herman died there on 4 Jan. 1978 and was buried in the Green Lake church cemetery. Hannah remained in their home for a few years but spent the last years of her life with her son Hartley and his family. She passed away 16 August 1986 and was laid to rest in Green Lake church cemetery south of Spicer.
Herman and Hannah had five children: Eleanor, Alfred, Einar, Hartley and Doris.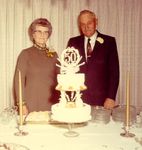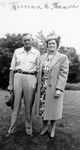 HANNAH AND HERMAN BERLIN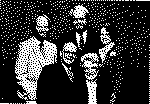 WALLACE CROAK FAMILY. RANDALL, LOWELL, LINDA, WALLACE, ELEANOR IN FRONT
RUTH ELEANOR BERLIN was born 31 March 1920 on a farm near Pennock. Later the family moved north of Willmar, and she attended Thorp School District 62. In 1939 she was a graduate from the Maplewood Academy in Hutchinson, MN. She went on to further education at Union College in Lincoln, NB, where she majored in elementary education.
On 9 June 1947 Eleanor was married to Wallace H. Croak, son of Henry and Anna Croak of Willmar, MN. Wallace w as born 30 Jan. 1923. He attended school at Willmar and was also a graduate of Union College in Lincoln in 1955.
Mr. Croak was a school principal for 25 years at Witchita, KS, Minneapolis, and Hinsdale, IL.
During the past nine years he has been working at the Hinsdale hospital as foreman of plant operations and plans to retire some time this year.
Eleanor was a schoolteacher for a total of 27 years. She taught school in Minnesota, Colorado and Illinois. She is now retired.
Wally and Eleanor now live in Claren Hills, IL. They have three children - Linda, Randall and Lowell.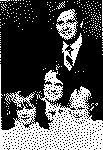 HARRY ROYAL FAMILY. CHRISTIAN, LINDA, HARRY, DANETTE
LINDA JEAN CROAK, their first child, was born 3 March 1948. She was a graduate of the Maplewood Academy. She graduated from Union College in Lincoln, NB, with a degree in nursing.
On 1 October 1972 Linda Jean was married to Harry Royal, the son of Chalmers and Greta Royal from Lincoln, Nebraska.
Harry Royal was born 28 June 1944. He is a graduate of Loma Linda University in California with a degree in physical therapy. He later received his master's degree. He was Director of Rehabilitation at Hinsdale Hospital for 12 years. He now is head of the physical therapy department at Loma Linda University Medical Center, in Loma Linda, CA. Linda works as a nurse in the same medical center.
They have two daughters - Christian, born 17 July 1975, and Danette, born 14 October 1978.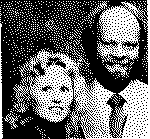 NAOMI AND RANDALL CROAK
RANDALL J. CROAK, the second child of Eleanor and Wallace Croak, was born 11 May 1950. He attended Maplewood Academy in Hutchinson, MN. He works at Hinsdale Hospital in the plumbing department and is a licensed plumber. He is also a sheet metal worker and does building and contracting on the side.
On 21 July 1974 Randall Croak was married to Naomi Severtson, daughter of Lloyd and Berdonna Severtson from LaCrosse, WI. Naomi was born 24 February 1950. She is a surgical nurse. They now make their home at Westmont, IL.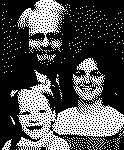 LOWELL CROAK FAMILY. BRADLEY, LOWELL, PATRICIA
LOWELL D. CROAK, the third child of Eleanor and Wallace Croak, was born 25 June 1956 at Abilene, KS. He attended Broadview Academy in Illinois and Andrews University at Bernen Springs, Michigan. He has worked as a x-ray technician in hospitals in Oklahoma, Massachusetts and Illinois.
On 4 May 1980 Lowell Croak was united in marriage to Patrice Nickerson, the daughter of Don and Pat Nickerson from New Braintree, Mass. Patrice was born 24 March 1959. She is a nurse.
They have one son, Bradley, born 23 March 1984. They now live at Barre, Massachusetts.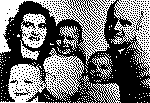 ALFRED BERLIN FAMILY. BACK: FERN, PAULETTE, ALFRED. FRONT: BRUCE, CLYDE
ALFRED BERLIN, the second child of Herman and Hannah Berlin, was born 26 June 1921. He attended school at Thorp School District 62.
On 16 April 1949 Alfred was married to Fern Pomerenke, the daughter of Oscar and Mathilda Pomerenke from Odessa, MN. Fern was born 23 Dec. 1926. She attended country school in Big Stone, Odessa School, Agaizzy Township School District 51, and Bellingham High School.
After Alfred and Fern were married in 1949, they farmed for a few years near Pennock and Spicer. Alfred also sold vacuum cleaners for a few years. They moved to Minneapolis, and Alfred worked at Napco Industries in Hopkins from 1956 to 1971.
Fern was a nurse's aide at Mt. Sinai Hospital 1963-1970 and Becky's Cafeteria 1970-1982. She now works at the Minneapolis Star and Tribune workers' cafeteria. All of these jobs were in Minneapolis.
Alfred and Fern had three children: Bruce, Paulette and Clyde.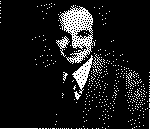 BRUCE BERLIN
BRUCE, their first child, was born 2 March 1950. He attended school at Mpls. Jr. Academy and Maplewood Academy, Hutchinson, MN. He is in the concrete finishing business and lives in Minneapolis.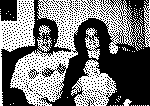 TIMOTHY MILLER FAMILY. TIMOTHY, PAULETTE, MATTHEW
PAULETTE FAY BERLIN, the second child of Alfred and Fern Berlin, was born 20 April 1954. She attended Minneapolis Academy.
On 3 Jan. 1981 Paulette Berlin was united in marriage to Timothy Miller, the son of Ronald and Jannette Miller of Humphrey, NB. Timothy was born 23 Dec. 1956. He attended school and college in Nebraska. He is an agricultural engineer, and Paulette is a deputy clerk at the Lincoln, NB Government Center. Paulette and Timothy have one son, MATTHEW, born 7 Aug. 1985.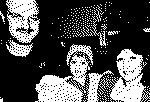 CLYDE BERLIN FAMILY. CLYDE, ANGELA, THOMAS, KATHY
CLYDE BERLIN, the third child of Alfred and Fern Berlin, was born 1 Jan. 1956 and attended Minneapolis Academy.
On 13 Jan. 1978 Clyde Berlin was united in marriage to Kathy Piotz, the daughter of Louis and Anna Piotz of Elk River, MN. Kathy attended school in Elk River. Clyde and Kathy are both in the printing business. Clyde works for Johnson Printing of Minneapolis; and Kathy is in the typesetting business and works out of her home.
Clyde and Kathy have two children, THOMAS, born 11 June 1984, and ANGELA, born 17 October 1985.
Alfred and Fern were married for 30 years. Alfred died 13 March 1971 and was buried at Fort Snelling National Cemetery.
On 17 Nov. 1979 Fern was united marriage to Jim Reeve, the son of Albert and Daisy Reeve from Saskatchewan, Canada. They now live in Minneapolis. Jim is an electrical engineer and has worked for Telex Communication for over 40 years.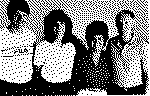 EINAR BERLIN FAMILY. STEVEN, JAN, VIRGINIA, EINAR
Herman and Hanna Berlin's third child, EINAR, was born 13 October 1922 in Kandiyohi County in the Willmar-Spicer area. He attended most of his grade school years at District 62 and went to Willmar High School. He graduated from Maplewood Academy in Hutchinson, MN. During World War II: he served in the Navy for two and a half years. He attended Union College and graduated from South Pacific Union College in Angwin, CA, in 1951 with a BA in English.
On 6 Sept. 1951 Einar Berlin was united in marriage to Virginia Trout, the daughter of Henry and Mary Trout from Nokoma, Kansas. Virginia was born in May 1927. She attended Bison high school in Bison, KS, and also Union College in Lincoln, Neb., taking a secretarial course. She has had secretarial positions at Boulder Community Hospital for 22 years and at Boulder Memorial Hospital for the past 11 years. Both are at Boulder, Colorado.
Einar has been in the floor finishing service most of his working life, working at St. Paul and Hutchinson, MN. He has owned and operated the Berlin Floor Service for 33 years at Boulder, where they now live. Einar and Virginia have two children - Jan Ranae and Steven William.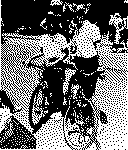 GORDON GATES FAMILY. TREVOR, GORDON, CHRISTY, JAN
JAN RANAE, their first child, was born 20 October 1952. She attended academies at Boulder and Champion, CO, Union College in Lincoln and Loma Linda University in California. She works as a dental hygienist, a mother and homemaker.
Jan Ranae was married to Gordon Morrrs Gates on 25 June 1972. Gordon is the son of H. Gordon and Nada Fern Gates from Denver.
Gordon was born 19 Nov. 1949 and attended the academy and high school at Boulder, Union College in Lincoln, Loma Linda University and the University of Washington at Seattle. He also was an assistant professor at the Loma Linda University School of Dentistry for three years and at present is in private practice as a prosthodontist in Boulder.
Jan and Gordon have two children: CHARITY RANAE, born 23 October 1976, and TREVOR GORDON, born 22 March 1979.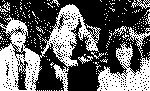 STEVEN AND MARY ANN BERLIN
STEVEN WILLIAM BERLIN, the second child of Einar and Virginia Berlin, was born 4 July 1956. He attended academies at Boulder and Loveland, Colo., Pacific Union College in Angwin, CA, graduating in 1978 with a BS in business administration. He worked for several years at medical centers in Los Angeles and Glendale and is now contractor supervisor at Berlin Floor Service in Boulder, Colo. He is also property manager at Mapleton Hill Medical Plaza in Boulder.
Steven Berlin was married to Mary Ann Forget on 11 Aug. 1985. She is the daughter of Fred and Gloria Forget from Fontana, CA. Mary Anne was born 27 February 1954 and attended school at Fontana and high school at San Bernardino. She also attended Chaffy College in Alta Loma, graduating in 1979 with an AS degree in dental assisting and radiological technology. Through the years she has been a dental assistant and X-ray technologist at hospitals in California and Colorado. At present she is x-ray tech. And private scrub nurse for Dr. William D. Ferris in Boulder

HARTLEY BERLIN FAMILY. LARRY, SANDY, DAVID, DANIEL, HARTLEY, JEANETTE
LUTHER HARTLEY BERLIN, the fourth child of Herman and Hanna Berlin, was born 31 March 1925 in Kandiyohi County near Spicer, MN. He died 16 Dec. 1986 at the age of 61. His funeral was 20 Dec. in Lake City, IA, and he was buried in Lake City Cemetery.
Most of his grade school years were spent at the Thorp School north of Willmar. He attended Willmar High School for three years and graduated from Maplewood Academy, Hutchinson, MN, in 1943.
He majored in agriculture at Union College, Lincoln, Neb, and received his degree in 1952. In 1961 he received a masters in education and administration from the University of Houston in Texas.
He met Jeanette Shelton While at Union College, and they were married on 26 Nov. 1949 at Kansas City, MO, her hometown. To this union were born four children, three boys and one girl.
LARRY BERLIN was born 30 Aug. 1951 at Lincoln, Neb. He married Sue Vaden in 1971. Their children are DONNA, born 24 April 1972, and DENNIS, born 3 April 1974. Larry and Sue were divorced. Larry is living now in Forestville, CA, and is in sales work.
DANIEL BERLIN was born 31 Dec. 1953 at Harvey, ND. He married Debbie Gardner. They had one child, BRYAN, born 2 Nov. 1974. Daniel and Debbie were divorced, and Daniel married Linda, with whom he had two children, DANNY, JR., born 11 Dec. 1980, and RICKY, born 9 July 1982. Dan and Linda were divorced. Dan, a master electrician, has his own electrical business in Boulder, CO.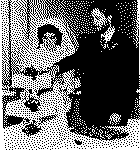 PATTY AND DAVID BERLIN
DAVID BERLIN was born 4 Dec. 1961 at Corpus Christi, TX. He married Patty Zummach on 18 Dec. 1983. They have no children. He is learning the electrical trade from his brother, Dan, While working with him in his business, living in Boulder.
SANDY BERLIN was born 31 March 1964 on her dad's birthday, While they were missionaries in Ghana, West Africa. She is still single, living at Fort Dodge, IA, since Dec. of 1985. She is working in a nursing home and just finished an Emergency Medical Technician course.
Hartley's work and responsibilities (all connected with Seventh-day Adventist church and its schools) are as follows:
1952-56-Farm manager and teacher at Sheyenne River Academy, Harvey, ND.
1956-57-Began work on Master of Education at University of Nebraska at Lincoln While teaching 7th and 8th grade at Union College Jr. High.
1957-58-Transferred credits for Masters to University of Houston. Worked as principal-teacher at Houston Jr. Academy.
1958-62-Principal-teacher at Coggin Memorial 8-grade school in Corpus Christi, TX, While continuing studies at Houston.
1962-67-Principal-teacher at several schools: 21/2 years in Ghana, W. Africa until 1965. Moved to Liberia, W. Africa, principal-teacher 21/2 years at Konola Academy, 55 miles north of Monrovia, Liberia. Was ordained in 1965. While there, the president of Liberian Mission left because of cancer so Hartley was put in as acting president of the Liberian Mission. Soon the treasurer took his "leave." Hartley filled in as treasurer also. Other teachers filled in for him when possible. Finally the president and treasurer jobs were filled by other personnel, and he resumed work at Konola Academy full time.
1967-72-Returned to U.S. He taught 7th and 8th grades at Andrews University lab school in Berrien Springs, MI.
1972-76-Principal-teacher at Boulder Jr. Academy in Boulder, CO.
1976-77-Principal-teacher at Capitol City Jr. Academy, St. Paul, MN
1977-80-Changed to pastoral work; pastor of 3-church district of Galveston, TX.
1980-83-Pastor of Tyler, TX, 2-church district.
1983-85-Chaplain at the Black Hills Health & Education Center, Hermosa, SD.
1985-86-Pastor of 3-church district, Lake City, Humboldt and Cherokee Seventh-day Adventist churches.
Hartley died on 16 Dec. 1986 after suffering a cerebral hemorrhage on Dec. 9, never regaining consciousness.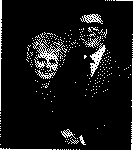 DORIS AND REV. BILL MAY
DORIS BERLIN, the youngest child of Herman and Hanna Berlin, was born 3 July 1927 in Kandiyohi County north of Willmar. She attended the Thorp School District 62 and Willmar High School She also attended Maplewood Academy in Hutchinson, MN, for two years, graduating in 1945. Then she went on to Union College in Lincoln, NE, where she met her husband-to-be, William May. He graduated from the college in 1948.
On 9 June 1947 Doris Berlin was united in marriage to William R. May, the son of Cecil and Alma May from Harper Ferry, West Virginia.
A few years later William May, or Bill as he is often called, was ordained in the ministry of the Seventh-day Adventist church and served churches in Mississippi, Alabama, New Orleans and Fort Worth. From there they went to Baltimore for over 13 years. While there Rev. May became president of the Chesapeake Conference of the Seventh-day Adventists, and Doris worked as a full-time secretary in the area. In 1976 they moved back to Texas and Rev. May became vice-president of the Southwestern Union Conference of the Seventh-day Adventists and now is president.
Doris is a real estate broker. After seven years in real estate, she went to work for Southwest Estate Service Inc., where she has been a trust officer since 1980. The jobs of both Doris and Bill have required extensive travel within the U.S., and even a trip to Australia. Doris and Bill have three children: Robert, Nancy and Michael.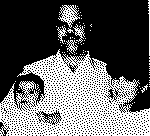 ROBERT MAY FAMILY. SHERI, ROBERT, GLINDA
ROBERT LLOYD MAY, their first child, was born 30 March 1949 at Lubbock, TX. His first 12 years of school were spent in private Seventh-day Adventist schools. He graduated from Columbia Union College in Takoma Park, MD with a BA in religion and a minor in business.
On 5 Sept. 1982 Robert was married to Glinda West, the daughter of Richard and Mildred West of Fort Worth, TX. Glinda was born 29 Nov. 1956.
Robert now owns his own business, The May Mechanical Inc., located in Hurst, TX, doing plumbing, heating, in conditioning and electrical work. His wife Glinda is a cosmetologist and beautician. They have one child, SHERILYNN, born 19 Feb. 1985.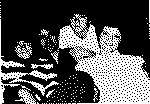 REV. DAMINICO COTTA FAMILY. CHRIST, DAMINICO, STACY, NANCY
NANCY JOAN MAY, the second child of Doris and Bill May, was born 21 March 1950 at Albuquerque, NM. She attended her first 12 years of school in Seventh-day Adventist private schools and attended Southern College, Collegedale, TN.
On 10 Aug 1969 Nancy May was united in marriage to Daminic (Cheeko) Cotta, who also attended Southern College at the time, graduating in 1971. He was a son of Dominic and Mary Cotta from Charleston, WV, born 18 Feb. 1942.
Rev. Daminic Cotta served as pastor in Seventh-day Adventist churches in Florida and Texas. Some years after they moved to Staunton, VA, where he was youth director. He is in charge of Pathfinder program for youth in the Seventh-day Adventist churches in Florida.
Nancy was receptionist for a doctor but is now the assistant administrator for a Florida living center. They now live at Apopka, FL, and have two children: CHRISTOPHER, born 27 June 1973 and STACY, born 30 March 1975.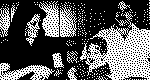 MICHAEL MAY FAMILY. STEPHANIE, TIMOTHY, MICHAEL
MICHAEL ROY MAY, the third child of Doris and Bill May, was born 14 Feb. 1953 in Carlsbad, NM. He attended academies in Texas, Arkansas and Maryland. He also attended Montgomery College at Takoma Park, MD, where he graduated with an AA degree in business administration.
On 6 April 1975 Michael May was married to Stephanie Johnson. Stephanie was born 3 July 1955.
Michael ~ manager of McDonald's in downtown Washington, D.C. Stephanie is a secretary for a law firm in Bethesda, MD. They live at Gaithersburg, MD.
They have one son, TIMOTHY ROY, born IS Feb. 1983.
The Kalevik- Kallevig Family History 1755 - 1987; Copyright 1987, 1999.