Family Reunions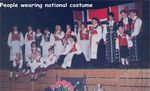 PEOPLE WEARING NATIONAL COSTUME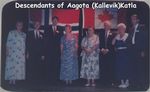 DESCENDANTS OF AAGOTA KALLEVIK KATLA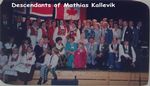 DESCENDANTS OF MATHIAS KALLEVIK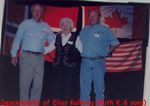 DESCENDANTS OF ELIAS KALLEVIG. RUTH KALLEVIG AND SONS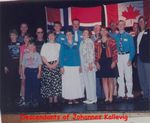 DESCENDANTS OF JOHANNES KALLEVIG.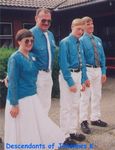 DESCENDANTS OF JOHANNES KALLEVIG.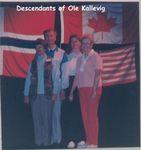 DESCENDANTS OF OLE KALEVIK.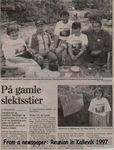 NEWS PHOTO AT KALLEVIK.
This picture is at Kallevik. The peopla are sitting in front of the old house there.
From left: Elaine & Larry Johnson, (Elaine is Johannes great granddaughter and they live in Calgary, Canada.)The next one is my fathers first cousin, Thomas Kallevik from Haugesund, and then Verneal & Donald Kallevig from Vancouver, Canada. Donald is also my fathers first cousin.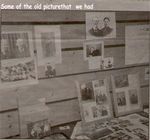 OLAVSCHOOL - COLLECTION OF OLD FAMILY PICTURES

THE KALEVIK - KALLEVIG 1986 REUNION
A Kalevik-Kallevig family reunion was held July 6 with over 200 people present
The Reunion was a two-day affair starting with a banquet on Saturday evening at Freda's Bord Cafe, Willmar.
Erv Kalevik was master of ceremonies for the program, which opened with a prayer by Carroll Kallevig, followed by an introduction of each person present.
Edith and Jean Kalevik and Cora Holzinger sang a Norwegian song accompanied by Jean Kalevik on the electronic keyboard and Greg Kalevik on violin. Menter Kalevik from Salt Lake City presented a humorous skit. Next there was a piano solo by Dana Zimmerman from Paynesville.
Erv also explained the reason for the two spellings of the Kalevik-Kallevig names. "Kalevik was the original spelling from Norway," he said. "Many changed the spelling to Kallevig after coming to America."
The banquet program ended with Jean Kalevik on guitar, leading the group in a closing prayer to the tune of Edelweiss.
The next day, Sunday, the reunion moved to the exhibit building at the Kandiyohi County Fair grounds. It started with a continental breakfast at about 9:30 a.m. At 10:30 they all gathered for a Sunday morning Worship service with Rev. Emil Kallevig from Glenwood conducting the service and Rev. Hartley Berlin from Rockwell, Iowa, bringing the morning message. There was also special music by the Ted (Groat family and a solo by Scott Wold, all from Minneapolis. All the people who took part in the program or services were relatives.
At noon, everyone enjoyed dinner. The remainder of the day was spent visiting and meeting relatives whom they have not seen for some time. Lunch, coffee and kool-aid was on tap the rest of the day.
The reunion organizing committee consisted of Erv Kalevik, New London, Marion Rime of Spicer, Lavern Thonvold of Willmar and Harold Kallevig of Minneapolis. Erv made a large family tree of all the relatives on the Ole Kalevik families. Marion made a family tree of the Johannes Kallevig families, and Harold made one of the Elias Kallevig families. Each unit consisted of about 150 family pictures. Every photo was identified with names. "This really was a great work of art and a very interesting display to all who came to the reunion," said Erv Kalevik.
"The 1986 reunion was a great success and the next one is planned for 1989," he said.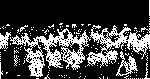 KALEVIK - KALLEVIG REUNION AT ROBINS ISLAND WILLMAR MINNESOTA 1983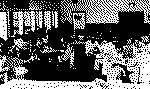 KALEVIK - KALLEVIG REUNION AT BAWLF CANADA JULY 1980

KALEVIK - kALLEVIG REUNION AT WILLMAR MINNESOTA - 1ST AND 2ND OF JULY 1978